The Firefighters Prayer
Dear Lord: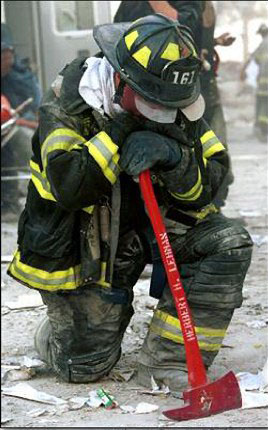 We call upon You for strength and guidance
Look kindly upon us in our needs.
Teach us to look always to You for assistance, as our fellow
citizens look to us.
Give us courage, that we may impart courage to others.
Make us studious, and give us pride and joy in our work.
When the gong sounds, calling us to duty, give us speed
and efficiency.
As our siren wails, ride with us through the city streets,
shielding us from danger.
On the fire scene, may our officers and men always work as
an honorable, courageous and victorious team.
Walk with us through the terror of flame and explosion.
May our hearts always be ready if we should be summoned
before our Eternal Chief in the midst of our labors.
Through our ministrations to our suffering fellowmen,
we dedicate our lives humbly to Your praise and glory.
In joy or sorrow, we ask only that You may be pleased with our
service, that when the Last Alarm shall have sounded for us,
We may receive our eternal assignment with You.
AMEN
Author Unknown